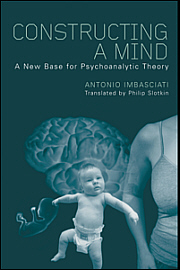 Constructing a mind. A new base for psychoanalytic Theory
Autore/i capitolo:
Imbasciati A.
Constructing a Mind draws on psychoanalytic theories of mind and recent developments in cognitive science to present the Protomental System, a new and original explanatory theory of the development of the human mind.
This book aims to move psychoanalytic theory away from its origins in Freud's theory, towards a model which gives priority to cognition and memory. This, Antonio Imbasciati argues, will make possible a successful and productive integration of psychoanalysis with other areas of psychology.
Subjects covered include:
–
The mind as an information-processing system
–
Constructing the system: from fetus to baby, child, and finally adult
–
The caregiver relationship as a decoding system for information processing
–
The paranoid-schizoid metabolism of information
–
Memory of functions and memory traces of affects
–
Internal information generated by the system
–
The depressive position and learning to know
–
Reparation and thought
This thoughtful and thorough account of cognitive development provides a conceptual framework that succeeds in making some of the more complex areas of psychoanalytic theory more intelligible.
Constructing a Mind will be of great interest to psychoanalysts, psychotherapists and cognitive psychologists, especially those with an interest in neuropsychology and neonatal development.
Contents:
Introduction. The Mind. An Explanatory Theory for Psychoanalysis. The Mind as an Information-processing System. The Engram: Afferences. Mental Operations and Internal Objects. Levels of Protomental Operations. The Paranoid-schizoid Metabolism. Affects as Cognitive Operations. Corporeity and Modes of Thought. The Depressive Position and Learning to Know. Reparation and Thought.